Look at the local club listings for music at
The Chesapeake Music Guide
Free search engine submission and placement services!
Directory of Businesses
- Offering free business listings and affordable advertising
U.S.
City Directory
a href="http://www.aigam.com/">Aigam Webdirectory
good search engine
http://www.aigam.com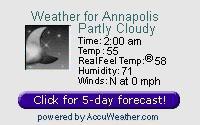 The Annapolis Music Store now has Guitars, Amps, gig bags, tuners, strings and other music accessories for sale. It is located at 1666 bay ridge rd in Edgewater, Md and the phone number is 410-224-4652. Feel free to call for questions.
We Have the perfect setup to learn guitar on, an electric guitar starter pack and 4 guitar lessons for $300.00!!! The pack includes electic guitar, 15watt amp, strap, picks, guitar cable, tuner and guitar bag.
We have the Johnson cali model electric guitar for $110.00, 15Watt practice amps for $75.00, Johnson starter acoustic guitar for $60.00, Korg tuners for $20.00, Korg metronomes for $30.00, 5 piece Coda drum kits for $360.00, Mel Bay instruction Books, Hal Leonard instruction dvds, D'addario strings for $5.00 per pack. We also have some used equipment available at cheap prices.
For the Kids, we can get 1/2 or 3/4 sized electric and acoustic guitars.
We are now a dealer for d'addario accessories and strings, Evans drum accessory, Johnson guitars and amps, Planet waves, Fender, Korg, Dunlop, Coda, Lucida, Guardian , Axl, Palatino and Carlsbro. We also have cables string winders and many other things. Open Monday through sunday by appointment only.